Welcome to www.economicvalueadded.dk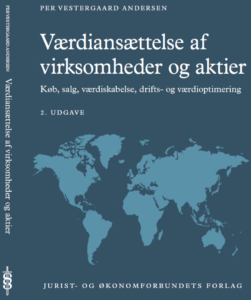 In October 2012, some of the country's greatest consulting firms and one of the country's most distinguished business professors were interviewed for a national newspaper. The key messages in the articles were:
That "companies constantly require three things: value creation, value creation and value creation".
That the "current mantra is the realization of ROC (Return of Consulting)".
That "companies do not master the art of value creation very well."
CDI Global agrees with these key messages, which is why you will find excerpts from the first edition of the shown book, which in September 2017 was replaced by the shown extended second edition of the book with the translated title "Valuation of companies and shares, Purchase, sale, value creation, operational- and value optimization" The book deals precisely with the way how valuation, value creation and operational and value optimization in companies are carried out practically as well as theoretically. These topics are exactly as relevant in 2017 as in 2012.
The author of the book is CDI Global's CEO and associate professor Per Vestergaard Andersen. The book is available for purchase now via this website as an e-book or a regular book.
Click here to buy the book via DJØF Publishing.
The purpose of this website is to make business owners aware that value creation should be their main and long-term focus.